San Diego has changed a lot over the past five years. And EDC has changed with it. We want to make sure we had a digital presence that reflects how we've evolved – as an organization and as a region.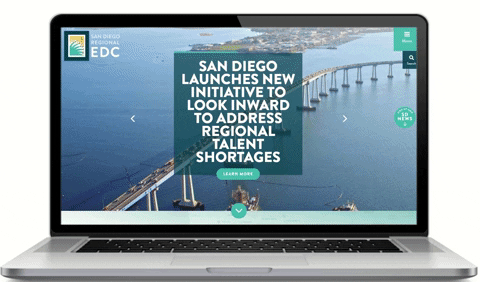 So what exactly does EDC do?
On any given day, we are working with the FAA to safely integrate drones into our airspace while helping regional employers attract, retain, and incubate talent. We are working with small businesses to break into international markets and conducting economic research to help everyone make informed decisions about our economy.
You can find us throughout our binational region – from the 78 Corridor to Tijuana – all the way to Tokyo, ensuring that we are creating opportunities for our companies and our region.
While these programs may seem disparate on the surface, they are all woven together by a common thread; our mission to maximize San Diego's economic prosperity and global competitiveness. However, for the region to remain competitive, we must take proactive measures to promote economic inclusion. That's why EDC has developed an inclusive-focused agenda to ensure that prosperity is felt in all corners of San Diego's economy.
The new sandiegobusiness.org
With the help of investors and partners, we've developed this website to capture our evolution. Here, you'll find detailed information on EDC programs & initiatives, how we work with companies, as well as information about the brands we manage, including World Trade Center San Diego, SD: Life. Changing., and Innovate78. 
At the same time, we remain committed to telling San Diego's story. From interactive dashboards on our economy, to information about investing in our region, we will constantly be providing the most relevant, up-to-date information about this region we're lucky to call home.
The website is designed to be easily viewable on any device, in practically any language, so we can ensure that no matter where in the world we are, San Diego is always showcasing its best self.

We invite you to take a look around. And if you have an extra moment, please let us know what you think.
Lastly, we want to express our gratitude to all of our investors. San Diego Regional EDC is proud to be a privately-funded non-profit. That means that in order to do the work we've outlined above, we rely upon the financial backing of nearly 200 organizations. Together, they are helping us create a stronger San Diego for everyone.
This is just the beginning. Stay tuned for more tools to support San Diego, its thriving companies, and growing talent in the months ahead.
Until then, San Diego.